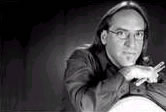 GRANT SMITH, DRUMS AND PERCUSSION
Grant Smith studied drumset with Alan Dawson, Arabic drums with Jamie Haddad, tabla with Kazi Jalal, Afro-Cuban percussion with Enrique Pla, and Handance with Glen Velez. The Boston Globe calls him a "brilliant improviser." The Boston Phoenix has noted his topflight "cross-genre " abilities. Others note his sunny disposition. Grant has toured extensively, including Thailand, Australia, and both Europes.
Grant Smith is involved in many world music, jazz, classical, and dance projects in Boston and New York. His theatre credits include the American Repertory's "The King Stag", and "Shlemiel The First", as well as Joel Grey's "Borscht Capades". He is also a contributor to Trish Cibree's "Lounge Life". Mr. Smith has toured globally from Crakow to Thailand and New Zealand. He has performed with Itzhak Perlman, Yo-Yo Ma, Don Byron, the Violent Femmes, Garrison Keillor,and Jane Wang.